Join us in celebrating our 25th Anniversary!
Due to health concerns, and with the blessings of Metropolitan JOSEPH, the banquet and journal to celebrate our 25th Anniversary have been postponed to a future date yet to be decided.
The Very Rev. Fr. Gregory Horton presided over the first Divine Liturgy of our parish on November 19, 1995. In remembrance of this historic event, a 25th Anniversary Banquet will be held on Saturday, October 31, 2020, at St. John's Event Hall. His Eminence Metropolitan JOSEPH will preside at the weekend festivities, beginning with Great Vespers at 4:00 p.m. followed by a celebratory banquet in our beautiful parish hall. Parishioners, friends and guests will gather to remember and honor the past, and to pray as we continue our vision for the future.
Our celebration will culminate with a Hierarchical Divine Liturgy at 9 a.m. on Sunday, November 1st. 
Tickets for the historical Saturday evening banquet are available during registration for only $25 for adults and $12.50 for children, 9 years and under.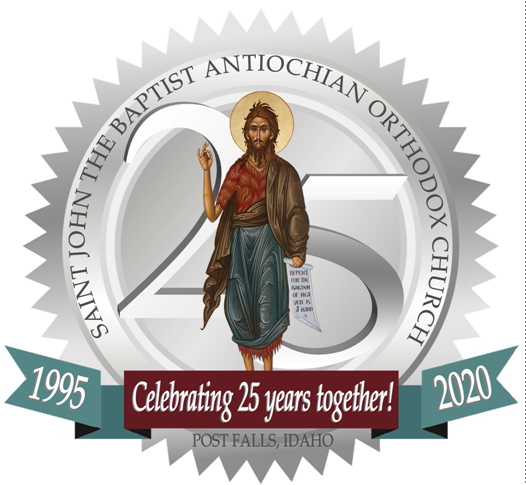 Your generous support will help to make this a successful and memorable event Come join us in celebrating this momentous occasion. Your presence would be a wonderful anniversary gift to all the members of St. John the Baptist parish.
Additionally, a 25th Anniversary Journal will be published to commemorate the past and to celebrate the beginning of a new era, with plans to expand our Church. A copy of the Journal will be given to each family attending the banquet and will be mailed to all contributors not able to be with us. This is your "golden" opportunity to send a personal message to all who will be joining us at our celebration.
Click here for more information about how to contribute and advertise in this Commemorative Journal