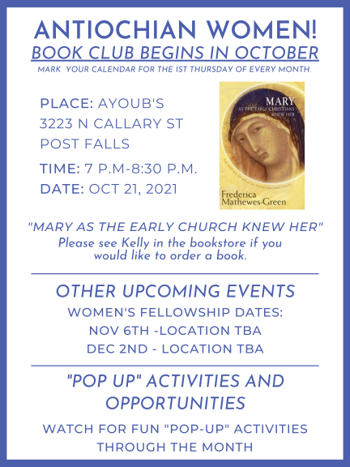 ANTIOCHIAN WOMEN FELLOWSHIP DATES AND ACTIVITIES
SISTERHOOD BOOK CLUB BEGINS IN OCTOBER
October 21, 2021
7 PM-8:30 PM
Lavonne Ayoub's home
3223 N. Callary St
Post Falls, ID
BOOK: "Mary, As the Early Church New Her" by Fredricka Matthews-Green
Please see Kelly in the bookstore if you would like a copy of the book.
You may also find the book here on amazon.
UPCOMING WOMEN'S FELLOWSHIP GATHERINGS 6 PM-8 PM
November 6th- location TBA
December 2nd- location TBA
OTHER SISTERHOOD ACTIVITIES:
Watch for fun "pop-up" activities
throughout the month!